Comfortstall Australia The best stable flooring in the world is finally here!
Description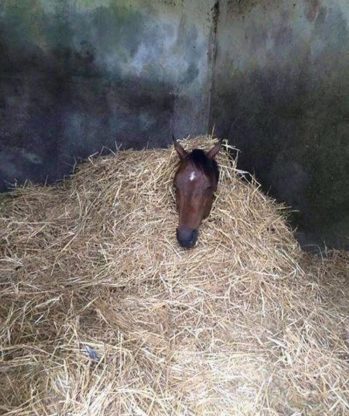 Comfortstall Mattress Systems. New to Australia! The next level in equine management. Developed by one of the leading equine hospitals in the world, Cornwell University in the US. Customer feedback is 2nd to none!
Imagine your horse being this cosy without the effort and expense! Comfortstall is hands down the no 1 stable flooring on the market. No other mattress system comes even close.
We have tested them all!
COMFORT STALL is the no. 1 choice in Mattress system flooring for your horses.
This flooring comes with a 6 year warranty due to having the best possible top cover and materials for both comfort and durability. Where other mattress system options wear and tear, even ripple, Comfort Stall outlasts them all. We had to choose one mattress system to continue on selling and we chose Comfort Stall. The cleaning time will amaze you! Soooo easy!
COMFORT STALL – the next level in stable management and comfort for your horse.
IN STOCK NOW AND READY TO BE INSTALLED! Import containers are selling fast due to an incredible 100% positive feedback and word of mouth.
Comfort Stall
The revolutionary stable flooring system from Haygain to enhance your horses' health.
Leading international equine product manufacturers Haygain have turned their focus of expertise to stable flooring systems with their latest revolutionary product, the ComfortStall® Orthopaedic and Sealed Flooring System.
ComfortStall® was co-developed with Cornell University Veterinary Hospital, one of the top three veterinarian hospitals in the world.
ComfortStall® combines three key veterinarian-recommended components to provide multiple benefits for both horse and owner:- orthopaedic Precision Foam™ padding for its unique 'spring in your step' anti fatigue properties and benefits to joint health; proprietary IronClad™ TopCover for unmatched structural stability and durability; and HDPE Anchor Strips to complete an impermeable seal with the sub-flooring, preventing build-up of ammonia and harmful bacteria.
Superior padding to protect joints and promote circulation
Precision Foam™ padding forms the heart of ComfortStall®, providing a cushioned and shock-absorbing core which delivers the unique 'spring in your step' anti-fatigue benefits.
Traditional rubber matting is often only 3% softer than concrete, whereas the support offered by ComfortStall® provides enhanced support to joints, tendons and ligaments, meaning less fatigue and concussion for the horse; and hock sores are eliminated.
The core padding also provides unrivalled thermal insulation to provide warmth and keep damp at bay, whilst providing plenty of 'give' to horses when lying down. Horses bedded on ComfortStall® are observed sleeping fully recumbent for extended periods of time, vitally important as REM sleep is increasingly recognised as key to performance and trainability in the horse.
Improved joint and respiratory health
Improved movement, flexibility and hoof quality through enhanced support to joints, tendons and ligaments from the therapeutic properties of ComfortStall's level surface that springs back with each step.
Stable air quality is greatly improved from the sealed impermeable one-piece Ironclad™ TopCover, and the hydrophobic properties of both the TopCover and the Precision Foam prevents urine and other undesirable moisture from seeping through to the sub-floor, making it extremely easy to clean and prevents the build up of ammonia and harmful bacteria.
An investment that pays dividends for years and years
ComfortStall® significantly reduces the quantity of straw, paper, cardboard, wood pellets or other bedding for protection. Bedding is now only needed to absorb body waste. The reduction in bedding, cleaning time, and the lack of flooring maintenance required adds up to a significant reduction in costs, and a Return on Investment typically of less than one year.
The choice of top equine vets in the United States
Cornell University Veterinary Hospital in the United States carries out 1,000 surgical procedures a year and every horse recovers on ComfortStall® flooring. The flooring has stood the test of time, providing continual service since it was installed in 2007.
Built to last
When others offer up to 2 years warranty, ComfortStall comes with 6 years, and a life expectancy of at least 15-20 years
Contact us today for more information, to organise a visit to one of our many display stables.
Email: info@jesmonddene.com
Mob contact: Danielle 0419 237777