Pixio Auto Follow Camera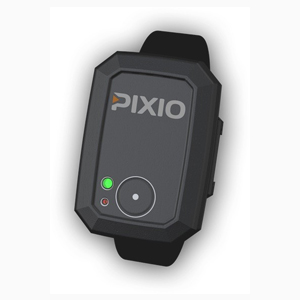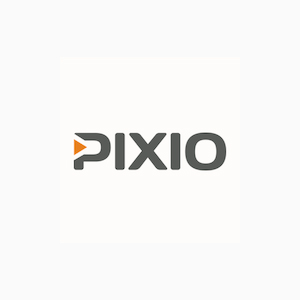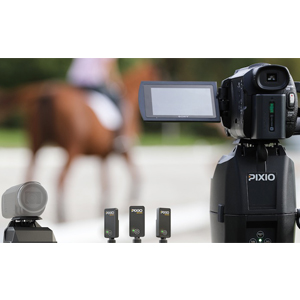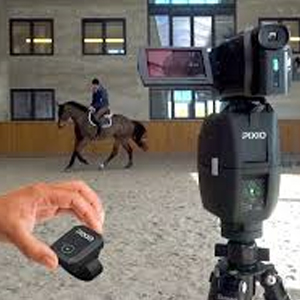 PIXIO: Your Personal Auto-Follow Camera
for Indoor + Outdoor Activities
PIXIO is the world first auto-follow camera to film both INDOOR and OUTDOOR. He tracks the watch, films and zooms in & out automatically. Now you can film more often, independently, without the assistance of a cameraman. Film sport, rehearsals, actors, pastors, conferences, events…!
Get your own robot and film automatically indoor and outdoor! Included: the robot (no camera, no tripod), the watch, the three micro-beacons with their small tripods, batteries and chargers, the cable for the camera control. Ready ? It's easy: just switch on, and film!
List of compatible cameras
for automatic zoom in & out + REC control from the watch and the smartphone app.
SONY HDR CX130 and PJ130, HDR CX160, HDR CX220 and PJ220, HDR CX240
and PJ240, HDR CX250 and PJ250, HDR CX260 and PJ260, HDR CX320 and PJ320, HDR CX330 and PJ330, HDR PJ340, HDR CX380, HDR CX390, HDR CX405, HDR CX410 and PJ410, HDR CX420 and PJ420, HDR CX430 and PJ430, HDR CX440, HDR XR500, HDR CX505, HDR CX530 and PJ530, HDR XR550 and CX550, HDR CX560 and PJ560, HDR CX570, HDR PJ620, HDR CX700 and PJ700, HDR CX740 and PJ740, HDR CX760 and PJ760, HDR CX780 and PJ780, HDR CX790 and PJ790, HDR CX810 and PJ810, HDR CX820 and PJ820, HDR CX900, FDR AX100, FDR AX33, PXW-X70. More to come.
CANON HFG30, HFS20, XF100, XF105. More to come.
THE PIXIO WATCH
WIRELESS CHARGE – WATER RESISTANT – 1.9Oz 50gr OF TECHNOLOGY – 3 HOURS OF AUTONOMY
Can be worn as a watch, an armband, at the belt or in a pocket, and even attached to a microphone.
Several watches can be used: the last one to press REC is filmed.
Or if you are a coach you can use the smartphone app. to control who is filmed and when. So easy to film with Pixio…!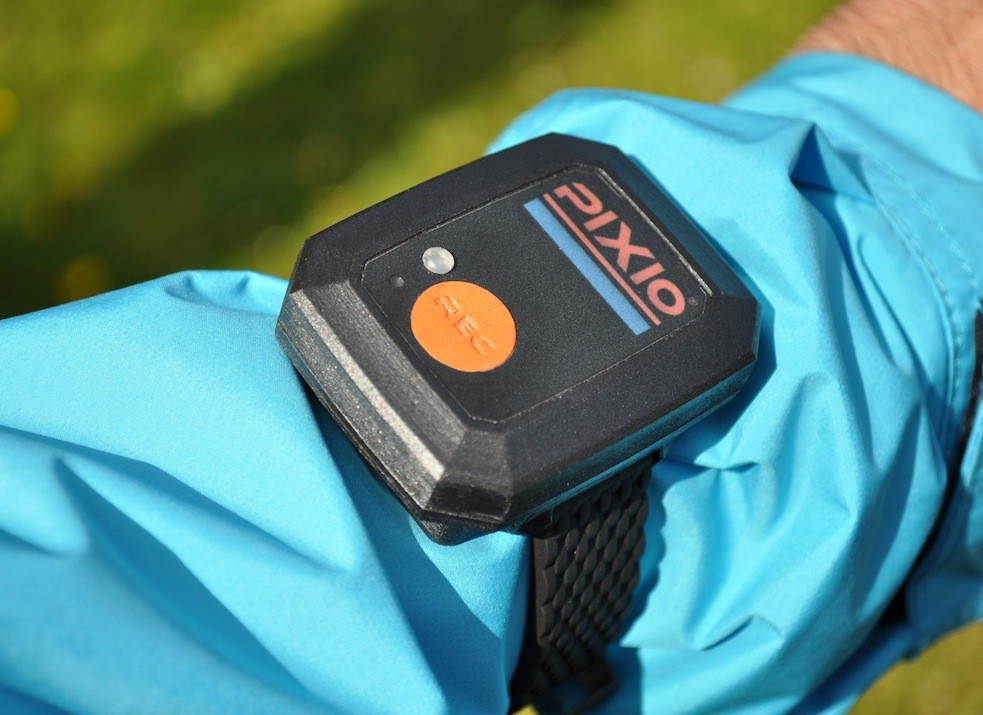 Wear the watch in your pocket and film rehearsals of actors, dancers, etc. Set the zoom as tight or as large as needed, and just press REC when it is important to film for your debriefings or souvenirs.
Film horse riding inside as well as outside. You can wear the tag as a watch, an armband, or in the pocket, and you can also put it on the noseband if you are not on the horse! Several watches can be used: the last one to press REC is filmed. Or if you are a coach you can use the smartphone app. to control who is filmed and when. PIXIO has been developped in close co-operation with riders. So easy to film with Pixio…!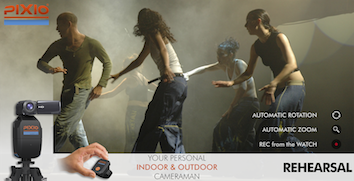 THE PIXIO ROBOT
Can support a 5lbs 2.5kg camera, or a DSLR, an action cam.
With a (non-provided) special interface it can also support a smartphone or tablet.
360° endless PAN rotation. 90°/s max. 4h autonomy.
SMOOTHER – MORE REACTIVE – MORE ACCURATE.
All indoor sports can be filmed with PIXIO: inside a gymnasium, ice skating rink, horse riding arena, skatepark, fencing hall… Enjoy the comfort of having a video very easily, without nobody behind the camera.
PIXIO can film your conferences and ceremonies. A great tool at affordable price! The watch can be worn for example in the pocket or attached to a microphone, but you can still wear it at the wrist. Thanks to the smartphone/tablet free Remote Control App., the responsible person can control several PIXIOs, start/stop recording, and choose who is filmed. He can even de-activate the automatic modes and control himself the frame.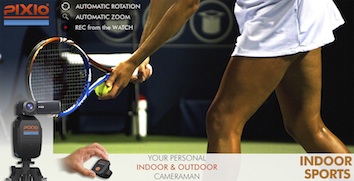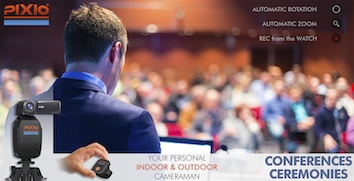 SMARTPHONE/TABLET REMOTE CONTROL APP
Control everything you can imagine… As a sport coach… As a video responsible… As an artist…
Choose who is filmed, from which camera. Choose the zoom level, activate/deactivate the auto zoom.
Deactivate the auto-follow mode and set your own frame. Configure a timelapse sequence…
(Remote Control App. is optional and free)
Your own personal cameraman will film your outdoor sport with exactly the same performance as indoor sport. Just wear the watch and put the three micro-beacons around the playground, switch on, and it's done! No calibration, no time lost, just enjoying your sport!
NOTE:  For nautical sports (kite-surfing, windsurfing, surfing, wake-boarding…) Pixio will not be adapted due to insufficient range. Therefore we do recommend to use the Classic or E-FullMotion models.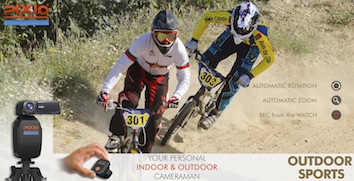 THE AUTOMATIC ZOOM
With a compatible camera (the list is above), PIXIO can adjust the zoom automatically, in real time, in order to keep the same frame size around the subject being filmed. How does it work? At any moment with the watch at a distance of more than 5 meters from the camera, you can go behind the PIXIO and press + and – to set the frame you like. Nothing else. This frame will be kept automatically when the watch distance increases or decreases. The setting is saved into memory and you don't have to do it again the next time you use your PIXIO.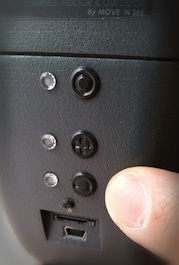 THE 3 MICRO-BEACONs
Put them around your playground and they automatically create your own local GPS for PIXIO, indoor as well as outdoor. Nothing to do, just switch on!
Here is a typical configuration for PIXIO. Create your own local GPS with the 3 micro-beacons around your playground: horse riding arena, conference room, video studio, gymnasium… Switch on, and it's done! No need to wait. No need to calibrate. You can move around and be filmed automatically. No need to stay right inside the beacons.
Micro-BEACONS are delivered with a micro-tripod for easy set-up anywhere. Just switch it on, and you can film during hours with the smallest, most reactive, most accurate, and easier auto-follow camera working indoor and outdoor.